| | | |
| --- | --- | --- |
| | Menachem's Writings | |
Letter by my late father-in-law, Shalom Baruch, Sam Fisher
from Palestine Israel to his grandfather in Warsaw, Poland
This letter was written shortly before Sam Fisher, Shalom Baruch's bar mitzva. It was sent from his home in Kfar Hasidim in Eretz Yisrael, the Holy Land, to his grandfather, Shimshon Kossower, a Gerer Hasid still living in Warsaw, Poland. The grandfather was very upset that his beloved grandson was being brought up in the Jewish wilderness of Australia, and would have been ecstatic to receive this letter from Palestine.
At the onset of World War II, Shalom Baruch's Uncle Haskel Koss managed to escape to Belgium. Fearful of the fate of Polish Jewry, Reb Shimshon sent his valuable papers to his son in Belgium for safe-keeping. Reb Shimshon died of natural causes before the Nazis closed the Jews up into the infamous Warsaw Ghetto.
Uncle Haskel and his wife survived the war, but lost their two children to the Nazi murder machine. They moved to Sydney Australia with their daughter, Betty, who was born after the war. After Haskel's passing, his family found, amongst his personal belongings, the letter below written by Shalom Baruch.
These sponsored links arrive via 3rd party feeds. We have no control over their content.
If they interest you, please feel free to click and see -- your interest in these advertisements covers our site expenses.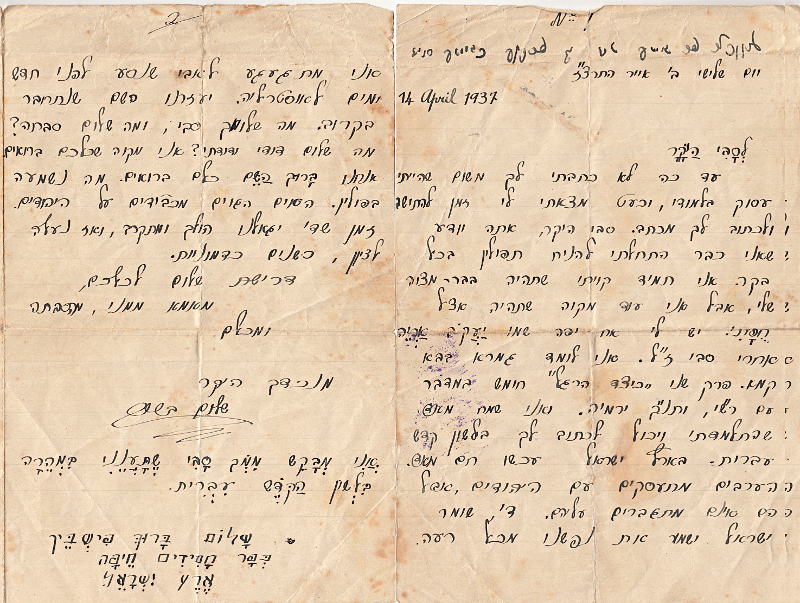 Tuesday, 2nd day of Iyyar 5697
14th April, 1937
To My Dear Grandfather,
I have not written to you so far because I was busy with my studies. I have now found time to sit down and write.
My dear grandfather, you know I have already started putting on tefilin every morning. I had always hoped you would be at my bar-mitzva, but I now hope you can be at my huppa [wedding].
I now have a beautiful brother. His name is Yaacov Aryeh after my grandfather of blessed memory.
I am now studying gemara, the second chapter of tractate Bava Kama known as Keitsad haRegel, Humash Bamidbar [Numbers] with Rashi and Tanach Yirmiya [the book of the prophet Jeramiah].
I am very happy that I have learned and am able to write to you in the holy language, Hebrew.
Currently it is very hot in Eretz Yisrael.
The Arabs are fighting with the Jews, but they will not defeat us. G-d, the keeper of Israel, "will protect us from all evil".
I miss my father who left a month ago for Australia. G-d willing we will be reunited soon.
How are you my Grandfather, and how is Grandmother?
What is news with my Uncle and Aunt?
I hope everyone is healthy.
We are, thank G-d, all healthy.
How is it in Poland?
Are the gentiles making it difficult for the Jews there? The time that G-d will bring us the Redemption is nearing, and then "we shall all come to Zion as in year gone by".
Regards to all of you,
From mother, me, grandmother and everyone
Your dear grandson,
Shalom Baruch
P.S. I ask you, grandfather, that you answer me soon in the holy language, Hebrew.
Shalom Baruch Fiszbin
Kfar Hasidim, Haifa
Eretz Yisrael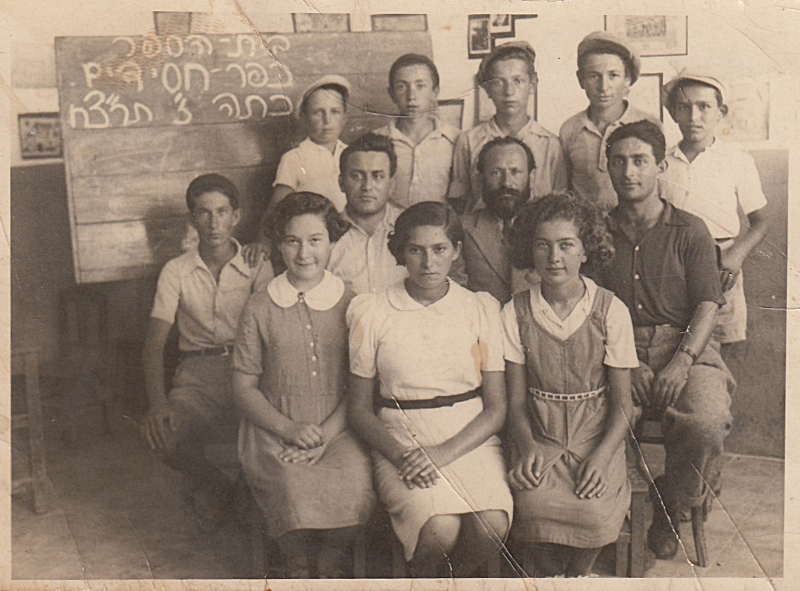 7th grade in Kfar Hasidim, 5698, 1937-38
Shalom Baruch Fiszbin, Sam Fisher, is the second from the right in the back row
3rd April, 2012
Please enter your comments on this article to Menachem:
Previous posts:
---
And don't forget to look at my latest (and classic) photographs at www.Menachem.co.il

Enjoy!